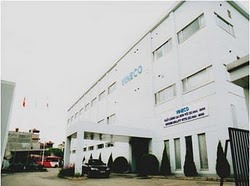 VINECO is a Joint Venture between Vietnam Posts and Telecommunications Corporation (VNPT) and NEC Corporation (NEC) of Japan.  It was established in 1997, having as main activities manufacture and sales of digital switching systems for the development of the telecommunications in Vietnam.
Over the past 10 years, VINECO obtained encouraging achievements. Company succeeded in receiving and transferring technologies from NEC, NEAX 61Σ manufactured and distributed by the company is a hi-tech product, meeting those technical standards of Vietnam telecommunication network.  Company has supplied NEAX 61Σ to 17 post offices in various provinces and cities nationwide, contributing to the development of telecommunication networks of the areas.
Facts & Figures
+ Founded: 24th Jul 1997
+ Investment capital:  USD 15 million
+ Number of lines sold out:  3.5 million
+ Turnover: USD 66 million (2004 ÷ 2007)
+ Market share: 21% (2007
Board of Directors
Mr. Duong Minh Tuan  – General Director
Investment license
+ Original license: 1953/GP dated 24 Jul 1997 & 1953/GPDC – 30 Sep 1998
+ The license:  011022000162 issued on 18 Jul 2011
+ New license:  011032001934 issued on 01 Feb 2013
VINECO has established and applied Quality Management System in compliance with ISO 9001:2008 awarded by TUV CERT – TUV NORD (Germany) and QUACERT (Vietnam); further improving product quality as well as productivity and company's prestige in the market.
In the future, VINECO will continue to enforce its engineer team, update technical knowledge and keep pace with new products of NEC, new technology trends of the world, making business plans, diversifying products and services for growth.
Head office
Address: Ngoc Truc, Dai Mo, Nam Tu Liem, Ha Noi
Tel: (+84) 4 3839 0930
Fax: (+84) 4 3839 0933
Hochiminh City Transaction Center
Address: 5th Tien Vinh Building, 281-283 Nguyen Thien Thuat street, 3rd district, HCM City
Tel: (+84) 8 3830 6790
Fax: (+84) 8 3830 6796