PASOLINK Series: The flexible, reliable answer to optimum network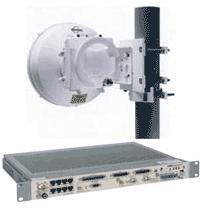 NEC's PASOLINK series (PASOLINK, PASOLINK Mx and PASOLINK+) lineup short-haul access digital microwave relay systems offer a wide range of access frequencies in the 4 – 52 GHz band. Traffic capacity ranges from 2 x 2 to 16 x 2 Mbps for PASOLINK, and 5 x 2 to 40 x 2 Mbps for PASOLINK Mx and 155 Mbps and 2 x 155 Mbps (STM-1) for PASOLINK+.
          All PASOLINK systems are compact and lightweight, and consist of an antenna, an ODU (Outdoor transmitter/ receiver Unit) and an IDU (Indoor modulator/ demodulator Unit).
          PASOLINKsystems feature simple installation and fast rollout, and offer high-speed transmission, scalability for future network expansion, and cost-effective operation. To improve the efficiency, flexibility and overall performance of your network, go with PASOLINK from NEC.
          Hallmarks of PASOLINK
        Small Size and Light Weight
                      World's lightest, most compact microwave relay systems
          High Reliability, High System Gain
                      PASOLINK systems continue to lead the industry
          Broadband Compatibility
                      Free combination of PASOLINK ODU and IDU
          New PASOLINK Features
      10/100BASE-T(X) Interface
                     In addition to the current E1 interfaces, two 10/100 BASE-T(X) interface ports are provided. They enable flexible allocation of bandwidth between E1 and 10 BASE-T traffic. Each of the 10/100BASE-T(X) channels can be assigned any of the following data rates: 2/8/17/34 Mbps, and the remaining capacity can be allotted to E1 usage.
      Automatic Transmitter Power Control (ATPC)
                     ATPC reduces interference affecting nearby systems, improves residual BER performance, and alleviates up-fade problem.
               Hitless Switch
                    Can be used to provide an antenna space diversity system.
               Transversal Equalizer
                    Helps compensate for selective fading.
               Received Signal Level (RSL) Monitoring
                    Continuous monitoring mode is available through the Local Craft Terminal
          Applications
                    Mobile Networks (GSM/GPRS/UMTS)
                    Serves as link between BTSs/ Node-Bs in mobile network, and provides communication channels from backbone network to BTSs-Bs through mobiles switching venter and BSCs/RNCs.
          LAN/WAN Connection
                    Provides ideal intranet-to-intranet (building-to-building) and intranet-to-public-network connection via a 10/100BASE-T(X) interface. (*E1 and 10/100BASE-T(X) interfaces can be used simultaneously.)
          Fiber-Optic Link Backup
                   In the event of a natural disaster, PASOLINK acts as a backup to the fiber-optic link should disconnection occur.
                   Enables transmission between points separated by a natural obstacles such as river, mountain, moutain or valley.
                   Serves as temporary link for sites or facilities under construction.